It's safe to say it's been a while since I made a post on here.
What in the world could make me want to start this back up after three years? Well I will tell you. It's dat god damn Disney.
It's Halloween, which for many of you I'm sure means a very busy sewing season. I have three costumes I'm working on for other people right now, and they all happen to be from Disney.
First, I'm tailoring deconstructing, re-cutting and sewing back together a Mary Poppins jacket for my friend Stephanie. She bought it online and it is sort of a disaster.
Second, I'm making a Megara costume from Hercules for a more different friend Stephanie.
And third, and let me tell you. This. This is the reason for coming back- mother fuggin' Maleficent. Ugh. I'm making her dress from the Christening scene from the live action movie. While I haven't actually seen the movie, I have googled it endlessly at this point and I think I get the jest of it. The costume itself isn't what made me what to start posting again. It's that I can't really find a link to anyone who made one and is also posting pattern shapes in their progress!
This is totally not a big deal and I think honestly most of the people who want that costume would just buy it. And I don't mind the drafting process because it is literally what I do... but not everyone has that going on and I can't imagine something more stressful than trying to make this with no idea how. And so with that being said, starting now and for the next few days I will be posting up a tutorial on:
How to Make Maleficent's God Damn Black Dress.
oh. my. stars.
If I had to pick one word to describe my process for making costumes, I think it would be Frankensteining. Why make an entire pattern when you can just use the front of pattern A, the skirt from pattern B and then fill in the blanks? Duh. It only makes sense.
After filling up a folder on my desktop of screen grabs and photos from costume exhibits, I realized that ol' homegirl is really just wearing a caftan with a train. Luckily, I L-O-V-E caftans and in addition to owning a few, I have a solid amount of sewing patterns in my collection. After pulling out a handful and narrowing it down to two stacks of 'ooooh I'm gonna make this for myself' and 'this is the one I need' I moved on to finding the right shape for the body.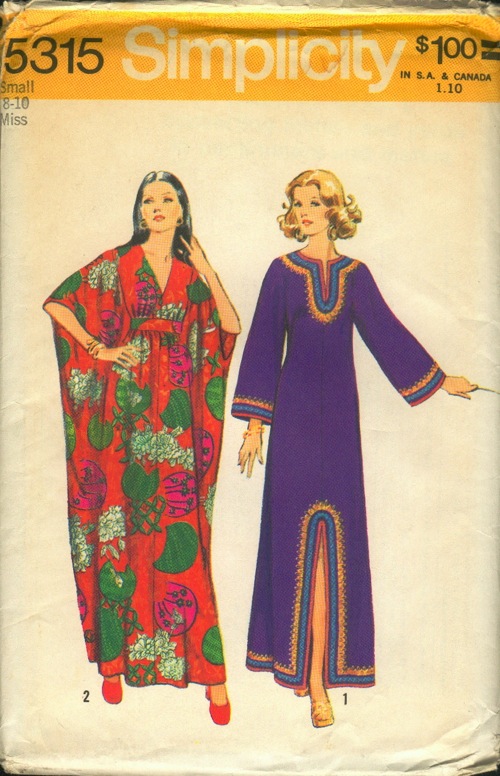 Simplicity 5315 A.K.A. my future at-home uniform
Since there is somewhat of a fitted shape to the bodice I opted to use the caftan shape for the wing-a-lings and general silhouette only. The body is made from a dress pattern that had the most similar lines and shapes I found.
Vogue 7836
I added in a bit of a flare to the center front seam, and also to the side seams to make the skirt more dramatic. I also added in pizza-slice shaped pieces onto the side seams on the front and back to add even MORE drama to the skirt. The wing-a-lings connect on the side seam. Next I used a more poncho-shape to get the right curves on the wings.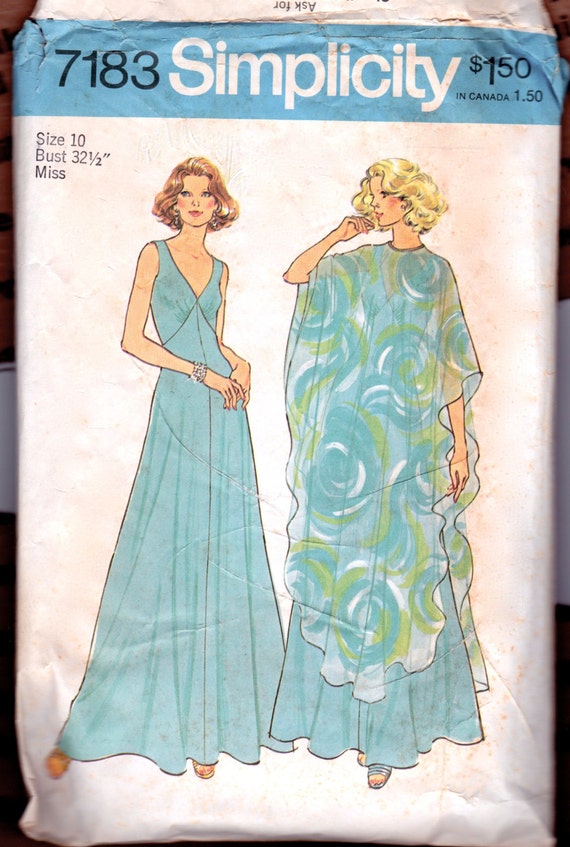 Simplicity 7183 made for a solid wing-a-ling curve
After I had the pieces all drafted out, I made a muslin for my client Laurena to try on. I'm usually one to go all in when I make things, it's a rare occasion that I go through the entire muslin process... but since this is going to take what I am currently calculating at 9,000 yards of fabric, it seemed like a good time to make a muslin after all.
She is literally on her way over now, so I will update how that goes tomorrow. In the mean time I'm going to go stuff my face with cookies until she gets here.